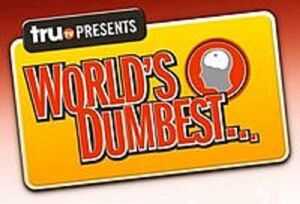 Worlds D
umbest
Format: Comedy and Reality
Created By: The Smoking Gun
Narrator: Chip Bolick
Country of Origin: United States
# of Seasons: 15
# of Episodes: 172 episodes (List of Episodes)
Running Time: 60 minutes
Original Channel: TruTv 
Original Run: March 18th 2008 - present
Website
Website
The World's Dumbest is an American cable tv show presented on TruTv. It features comedic commentary on videos of utter stupidity by celebrites like Todd Bridges, Leif Garrett, and Tonya Harding. Some of the clips even feature animations and sound effects. 
Commentators
Edit
Ad blocker interference detected!
Wikia is a free-to-use site that makes money from advertising. We have a modified experience for viewers using ad blockers

Wikia is not accessible if you've made further modifications. Remove the custom ad blocker rule(s) and the page will load as expected.